The New Castle Henry County Chamber of Commerce is proud to host the 2021 Memorial Day Ceremony and Parade sponsored by Citizens State Bank.
The ceremony and parade take place in downtown New Castle, Indiana on Monday, May 31, 2021.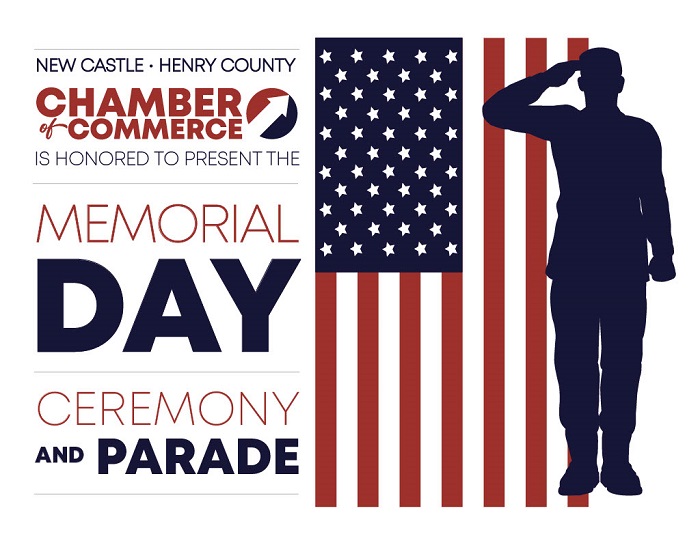 The New Castle Henry County Chamber of Commerce looks forward to presenting this Memorial Day tradition to our Henry County area communities.
The 2021 theme is Honoring Our Heroes"
The Memorial Day Ceremony begins at 9am in the New Castle Courthouse lawn.
The ceremony honors the men and women who have paid the ultimate sacrifice while serving in the United States military.
Memorial Day is to memorialize the veterans who made the ultimate sacrifice for their country. We remember those who lost their lives and could not come home, reflecting on their service and why we have the luxury and freedom that we enjoy today.
Program:
Speakers and presentations to be announced soon!
Memorial Day Facts, Meaning and Traditions
Remember: Raise the flag with honor and respect! Guidelines for flying the American Flag.
National Poppy Day is May 28, 2021 - The red poppy is a nationally recognized symbol of sacrifice worn by Americans since WWI to honor those who served and did for our country in all wars. Read the story of the red poppy.
The Memorial Day parade begins at 10am in downtown New Castle, Indiana
The parade is a long-time community anticipated event!
We welcome your parade entry and there is never a registration fee. We do ask that you consider a $25 gift to the Chamber Scholarship Fund which is available on the online registration form.
There is a cash price for the best decorated for the "Honoring Our Heroes" theme. Certificates are given for most patriotic, vintage auto, most unique and crowd pleaser.
The parade route will follow Broad to Main Street then down Bundy to Parkview.
All participants must be registered to be in the parade.
The chamber events committee and board of directors will continually monitor the COVID environment.
They may cancel the events at any time if deemed necessary for the safety of the public, volunteers and participants.