Cash Bonanza September 10th, 2022
Ticket Sales Starting July 1st!
~An Event You Will Not Want To Miss~
Watch our Facebook!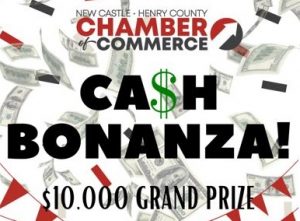 A few of our 2021 cash winners! Congratulations!!
Cash Bonanza is an annual event hosted by the New Castle Henry County Chamber of Commerce. This is the Chambers biggest fundraiser of the year! This is a night of food, fun and chance! With your ticket purchase you will enjoy a delicious dinner.  There will be a cash bar for you choice of drinks.
Cash Bonanza is a fast action event with the chance to win $10,000!
Please consider becoming a sponsor of the Cash Bonanza! There are several sponsorship levels to select from. Each level allows for great publicity for your business.
The sooner you commit to sponsoring, the more publicity your business will receive!
Questions? Call 765-529-5210 or email info@nchcchamber.com.
Tickets will be available soon at the Chamber office: 100 S. Main St., Ste. 108, New Castle, IN and from Chamber Board Members.
Tickets are $100 for a chance to win $10,000. 2nd prize is $1,000. Only 300 tickets in play.
Payment must be by cash or check made out to the Chamber. No credit cards. No out of state ticket sales.
Questions? Call 765-529-5210 or email info@nchcchamber.com.
$10,000 Chance to win!
Tickets are placed in a roller hopper and drawn during the event.
Many cash prizes are given away during the event. But, the one everybody anxiously awaits for is the $10,000 grand prize!
Only 300 tickets are sold for this event! Be sure to get your ticket (or a few) and good luck!
Last Chance
A $20 last chance ticket may be purchased in addition to the $100 ticket. You must be a $100 ticket holder to play in the last chance.
Booze Barrel
The booze barrel is a variety of alcohol ($300 value). The $5 chance tickets may be purchased at the Chamber office or from a Chamber board member. You do not have to be a $100 ticket holder to purchase tickets.
Final 5
When 5 tickets remain board members will call each finalist.
The top five ticket holders will have the option to split $11,000. If the remaining five ticket holders are not in agreement to split, the drawing will continue until the remaining ticket holders agree to split or 2 ticket holders remain. Once two ticket holders remain, if a split is not agreed upon, the next ticket holder drawn will be the winner of $1,000. the ticket left in the hopper will be the grand prize winner of $10,000!
More Chances to Win!
There will be numerous door prize drawings for $50 gift cards to local businesses.
50/50
Pull Tabs
Silent Auction
The Courier Times has donated an advertising package worth $5,040!
Place bids by calling 765-529-5210 before the event.
To bid during the event call 765-808-7925.
The winner will be announced during the live streaming.
Description of package:
12 Month Internet Banner ($3,000 value)
2 Quarter Page Ads ($1,020 value)
2 Color Coupons ($500 value)
1 Classified Help Wanted Ad ($50 value)
1 Five Column by Five Inch Ad ($470 value)
A total worth of $5,040!