Cash Bonanza presented by Henry Community Health
Photos courtesy of The JMetzger Group

After two years of being held virtually CASH BONANZA is back IN PERSON!
This year will have MORE sponsor publicity, MORE prizes and MORE FUN!
The purchase of one tickets get two into this fun and cash filled event!
Saturday, September 10, 2022
New Castle Armory
Watch Facebook for updates! @nchcchamber
You Have Your Tickets! Now What?
Congratulations! You will be attending the Chamber's biggest FUNraiser of the year - Pardi Gras Cash Bonanza!
The ticket holder is entered in the $10,000 grand prize drawing. As well as other prize drawings.
MUST BE PRESENT TO WIN! Purchased a ticket and cannot attend? Call and give us a proxy to put on your ticket. Must be someone who is attending.
The ticket holder may bring one guest. The guest is eligible for the nights cash to play prizes but not the $10,000 drawing.
The ticket holder and the guest both may attend the cocktail hour and receive a smoked pork chop dinner with baked potato, green beans and dessert.
There will be additional gaming during the night such as 50/50, raffles, party pong and more. These games are NOT included in the $100 ticket purchased prior to the event.
Come prepared - ALL games are cash only.
MUST have your raffle ticket stub to claim raffle prizes.
GREAT advertising package donated by the Courier-Times
Call 765-529-5210 to place your bid!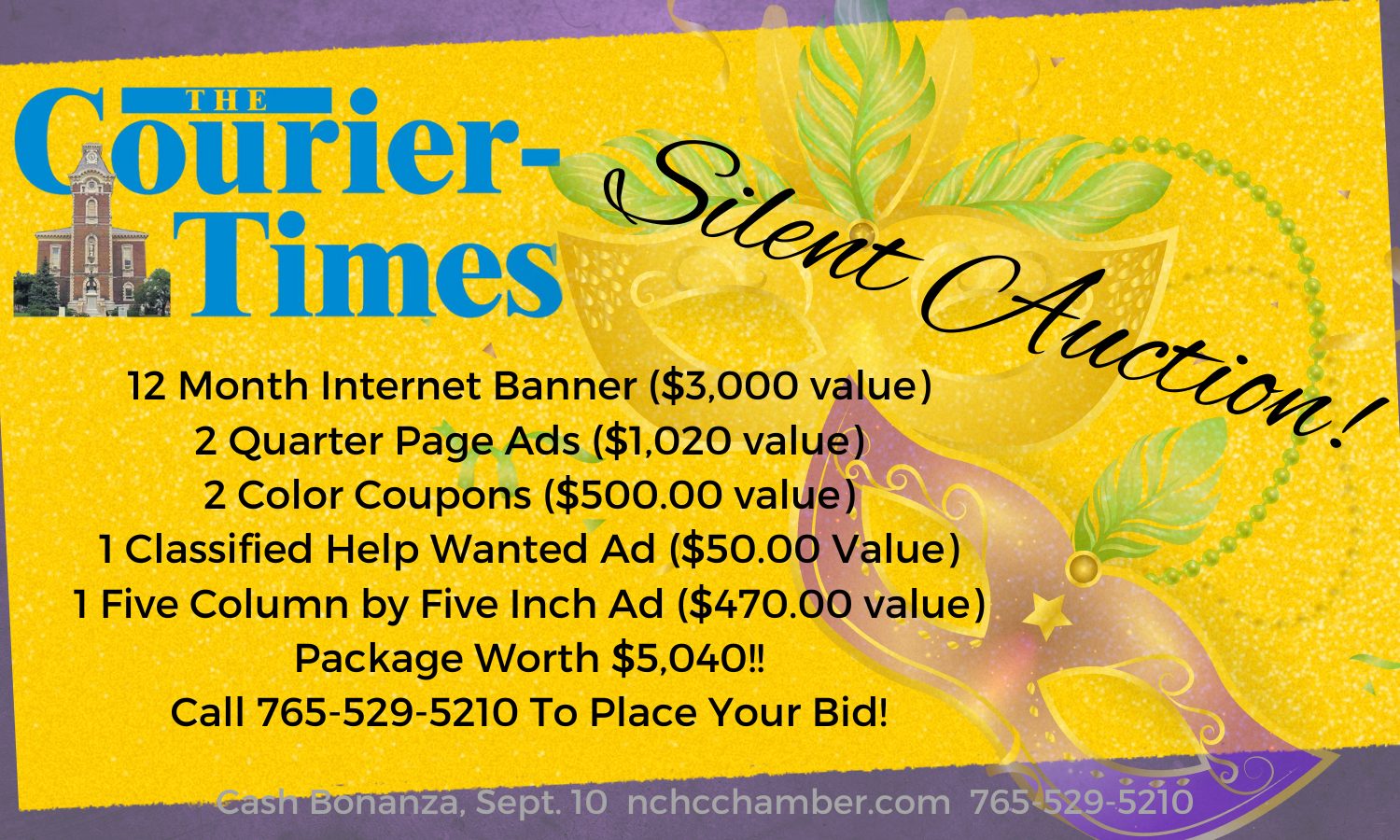 4:45pm - Doors Open
5:00pm - Cocktail Hour : Cash bar service by L.A. Liquid Catering. Entertainment by The Road Master.  Get ready to win by playing Party Pong during cocktail hour!
6:00pm - Dinner served of smoked pork chop, baked potato and green beans served by Optimists. New Castle Career Center preparing dessert of  Mardi Gras King Cake and their Taste of Henry County winning cheesecake.
6:30pm - Let the gaming begin! Caleb Gillock, Emcee
There will be several games available during the evening in additional to the $10,000 grand raffle prize.
Cash only for gaming.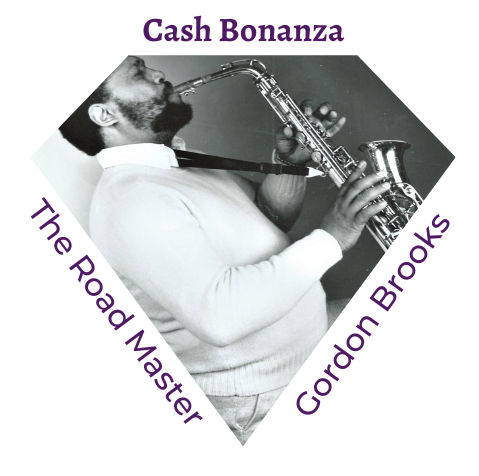 RAFFLE BASKETS AND $100 SPONSORS
Action Staffing/Diana Coy/Norwex
The Barnett Co.
Citizens State Bank
Color by Nicole
The Courier-Times
DeFur Voran LLP
Henry County 200
Ky's Kreations
L.A. Liquid Catering
Lisa Loveless
Memorial Park Golf Course
New Castle High School
Pat Bogue
Professional Design LLC
Thirty-One Gifts/Kathy Planton
Webb's Personal Touch
WholeHeart Communications
YMCA
Cash Bonanza is an annual event hosted by the New Castle Henry County Chamber of Commerce. This is the Chambers biggest fundraiser of the year! This is a night of food, fun and chance! With your ticket purchase you will enjoy a delicious dinner.  There will be a cash bar for you choice of drinks.
Cash Bonanza is a fast action event with the chance to win $10,000!
Where to get tickets: Chamber of Commerce, 100 S. Main St., New Castle, First Financial Bank, 600 S. Memorial Dr., New Castle and ERA Integrity Real Estate, 1484 S. Memorial Dr., New Castle. They are also available from Chamber board members: Kevin Davenport (Clean N Simple), Rebecca Gonya (Big O Tires), Cara Huffman (FC Tucker Real Estate), Latina Masters (Citizens State Bank), Vickie McIntosh (First Merchants Bank), Cathy Crabtree (PCE/McGowan Insurance), Kristen Bennett (ERA Integrity Real Estate), Mary Campbell (Purdue Extension Office), Luci Welch (Henry Community Health), Vaugh Reid (Vital Computing), Justin Helman (Helman FocalPoint), Marka Sonoga (Courier-Times)
Please consider becoming a sponsor of the Cash Bonanza! There are several sponsorship levels to select from. Each level allows for great publicity for your business.
Most sponsorships include ticket/s for the $10,000 prize and event.
The sooner you commit to sponsoring, the more publicity your business will receive!
Questions? Call 765-529-5210 or email info@nchcchamber.com.
Tickets will be available beginning Thursday, July 14 at the Chamber office: 100 S. Main St., Ste. 108, New Castle, IN and from Chamber Board Members.
First Financial Bank will have tickets beginning Friday, July 15th.
Tickets are $100 for a chance to win $10,000. 2nd prize is $1,000. Only 300 tickets in play.
Payment must be by cash or check made out to the Chamber. No credit cards. No out of state ticket sales.
18 and older event.
Questions? Call 765-529-5210 or email info@nchcchamber.com.
$10,000 Chance to win!
Tickets are placed in a roller hopper and drawn during the event.
Many cash prizes are given away during the event. But, the one everybody anxiously awaits for is the $10,000 grand prize!
Only 300 tickets are sold for this event! Be sure to get your ticket (or a few) and good luck!
Last Chance
A $20 last chance ticket may be purchased in addition to the $100 ticket. You must be a $100 ticket holder to play in the last chance.
Booze Barrel
The booze barrel is a variety of alcohol ($300 value). The $5 chance tickets may be purchased at the Chamber office or from a Chamber board member. You do not have to be a $100 ticket holder to purchase tickets. Sponsored by Castle Pawn Shop/Ric Barr.
Final 5
When 5 tickets remain board members will call each finalist.
The top five ticket holders will have the option to split $11,000. If the remaining five ticket holders are not in agreement to split, the drawing will continue until the remaining ticket holders agree to split or 2 ticket holders remain. Once two ticket holders remain, if a split is not agreed upon, the next ticket holder drawn will be the winner of $1,000. the ticket left in the hopper will be the grand prize winner of $10,000!
More Chances to Win!
Your choice raffles - Purchase tickets (5/$20 or $5/each) for a chance to win a basket valued at $100 or more donated by local businesses!
50/50 - Purchase tickets (5/$20 or $5/each) for a traditional 50/50 cash prize drawing!
NEW - We have some new FUN games this year! We are going to keep it a secret until the day of the event - everyone loves surprises!
Silent Auction
The Courier Times has donated an advertising package worth $5,040!
If you would like to place a bid prior to the event call 765-529-5210.
The winner will be announced during the live streaming.
Description of package:
12 Month Internet Banner ($3,000 value)
2 Quarter Page Ads ($1,020 value)
2 Color Coupons ($500 value)
1 Classified Help Wanted Ad ($50 value)
1 Five Column by Five Inch Ad ($470 value)
A total worth of $5,040!
A few of our 2021 cash winners! Congratulations!!