Welcome to the Chamber Christmas Walk in Downtown New Castle Indiana!
Thursday, December 7, 2023
Attending the Christmas Walk
Downtown New Castle is excited to see you at the Christmas Walk on Thursday, December 7th from 5:30pm to 8:30pm.
The event offers all the sights and sounds of the season. Families will find many activities, games and giveaways for the kids and unique local shopping for gift giving (or for keeping).
Downtown will be decked out with lights, luminaries and decorations that locals and visitors look forward to every year.
Shop local - keep the cheer here! Local downtown businesses will have specials and activities for guests. Local vendors line the streets ready for shoppers.
Horse drawn trolley rides, carousel, Santa, pony rides, reindeer, characters (Grinch, Frosty, princesses, skating elves and more), caroling, and  other holiday traditions. Look for all the photo spots! Two bounce houses -  one for the little ones and one for the bigger kids.
We look forward to seeing you in downtown New Castle December 7th!
To purchase a luminary contact Victory Lane Camp at 765-591-7487. They are $10 and benefit Victory Lane Camp.
SCHEDULE - MORE DETAILS COMING SOON FOR THE 2023 WALK
5:30p-8:30p - Downtown business and vendor shopping
5:30p-7:30p - Free Pony rides on 15th and Broad Streets
5:30p-8:30p - Free Carousel rides on Main Street
5:30p-8:30p - Horse-drawn trolley rides ($5 per adult, Youth 10 and under free with paying adult)
1400 PLAZA
6:00p - Raintree Children's Choir
6:20p - New Castle Middle School Choirs
6:45p New Castle High School Madrigals
ROAD CLOSURE MAP
Click here for a Google map of road closures, parking area, and more.
Vendors - Emails were sent closer to event with arrival and set up instructions. Check your spam folder if you do not see it in you inbox.
Event Program/Map - Visit the Chamber Chalet Hospitality Tent at Broad and Main Streets for event program/map and information!
There will also be a 'realtors box' at the 1414 Plaza with the event program/map.

Open Downtown Businesses and Vendors
DB = Open Downtown Business
2023 
A Better Way
A Touch of Faith
American MainStreet Products LLC
Amos Exteriors
Art Association of Henry County -DB
Big Poppa's Pork Pit - Food Truck
Blue Butterfly Boutique
Blue River TapHouse - DB
The Boujie Baker
Bracelets by Meg
BricksMadeBetter
Broad Street Blends -DB
BS Creations
Cabin Acres-Sweet Serenity
Cake Crochet
Chef's Rx Sweets LLC
The Church of Jesus Christ of Latterday Saints
Citizens State Bank -DB
Clem's Roofing
Cornerstone Campground
CountyLine Design
D&L Boutique
The Courier Times -DB
DeFur Voran LLP - DB
The Dog House
Duddlebugs Bakery
Dragon Cove Creations
Duty Calls Plumbing
Edwards Jeweler -DB
Empire Title Services - DB
Exotic Munchies LLC
F.C. Tucker Crossroads Real Estate -DB
First Church of the Nazarene
First United Methodist Church - DB
Fit Factory Gym
Foster Care Select
The Flower Studio -DB
Gifts by Stacey
Girl Scouts of Indiana
Gitrdoneconcessions
The Good Co. - DB
Happy Fleece
Henry County Purdue Extension - DB
Henry County Republicans - DB
Henry County SWMD - DB
Honey Blonde -DB
The House Youth Group
Hux Woodworking
Indiana Legends
Jakes Heating, Air and Plumbing
Jemmas Snuggle Buddies
JustPLAINjane
Keesling Farms
Kelly's Sweet Treats
KJ's Kreations LLC
Knights of Columbus Council 1755
Ky's Kreations Food Truck
Knights of Pythias (Santa!) -DB
Kory's Kettle Corn
L&K Produce
Lasting Sparkle
Leafguard
Lewis Insurance -DB
The Licorice Guy
LifeStream Services
Lily's Dream Boutique
Little Blessings
Lola's Momma Made It
LT Woodcrafts & Designs
M&K Creative Designs
Midwestern Girls Boutique inside of Popped
Madi's Cookies
The Market Shed
Maxwell's Mercantile - DB
McGowan Insurance Group - DB
metronet
Modest Midwest Wax Co.
Moonlightcrafts
MTB Home Furnishings - DB
Native Inspired
New Castle Career Center
New Castle Elks Lodge #484 -DB
New Castle Gymnastics Team
New Castle Henry County Public Library
New Castle High School Junior Optimist Octagon Club
New Castle IN Little League Baseball
Nutcracker Sweets
OffiSource Complete Office Supply -DB
Ollie Lue Soap Co LLC - DB in Village Creations
Painted dezigns
Park Place Free Methodist Church
Parker Elementary
Pitcher Perfect
Pork Paradise -Food Truck
Poynter Bros Pro Shop
The Press Coffee Shop -DB
Primo -DB Restaurant
Professional Design LLC -DB
Radiance Beauty and Wellness - DB
The Rink, New Castle Skate Center
Rose City Funeral Home
Roselynn Candles
Rustic Wildflowers
S&S Body Care
Safe At Home
Sassy Selfcare with Liz Niles
Saving Grace Fire Protection
Sharing Forward Realty
Sharon's Signature Scents & More LLC
Silhavy Cretions
Smell Good
Sproles Family Funeral Home
Selah Salon & Spa -DB
Stonebrooke Rehabilitation Center
Sign Gypsies New Castle
Amy Glaser State Farm - DB
Sugar and Spice Cottage Kitchen
T & R Specialties
Tis the Season Flowers and Gifts -DB
Timeless Treasures Photography & More
Tuareg Craft
Twin Dog Designs
Twin Lions -DB
Unique Home Solutions
Victory Church
Victory Lane Camp
Village Creations - DB
The Waters
Webb's Personal Touch
Whimsies
Youngs Title -DB
Event Sponsors receive:
10' x 15' booth space
Logo on web page and vendor/sponsor registration page
Name listed on sponsor signage around event
Name listed on window cling located at Broad & Main Streets
Logo on event map/program
Social media promotion leading up to event
Business name in Courier Times Chamber Talk
Cost only $200 - Click here to become a sponsor.
Special feature sponsors are available for $300
Sponsor registration for guaranteed print is November 10, 2023
Vendors receive:
10' x 15' booth space
Listing on event map/program
Social media promotion leading up to event
Vendor provides tent (if desired), table and chairs. Generators are allowed.
Cost only $35 - Click here to become a vendor.
Vendor registration closes November 30, 2023
What else will be at the Christmas Walk?
Luminaries:
Luminaries will be placed at Christmas Walk by Victory Lane. Victory Lane is an organization that helps families with children with special needs and families without children with special needs create life-long relationships with one another through camps and events.
You can help make a difference in special needs families lives this Christmas by buying a $10 luminary bag!
Stop by  321 Kids (1912 Bundy Ave., New Castle) or call 765-591-7487 to purchase and decorate your luminary bag. If you do not wish to decorate a bag a label will be provided for you.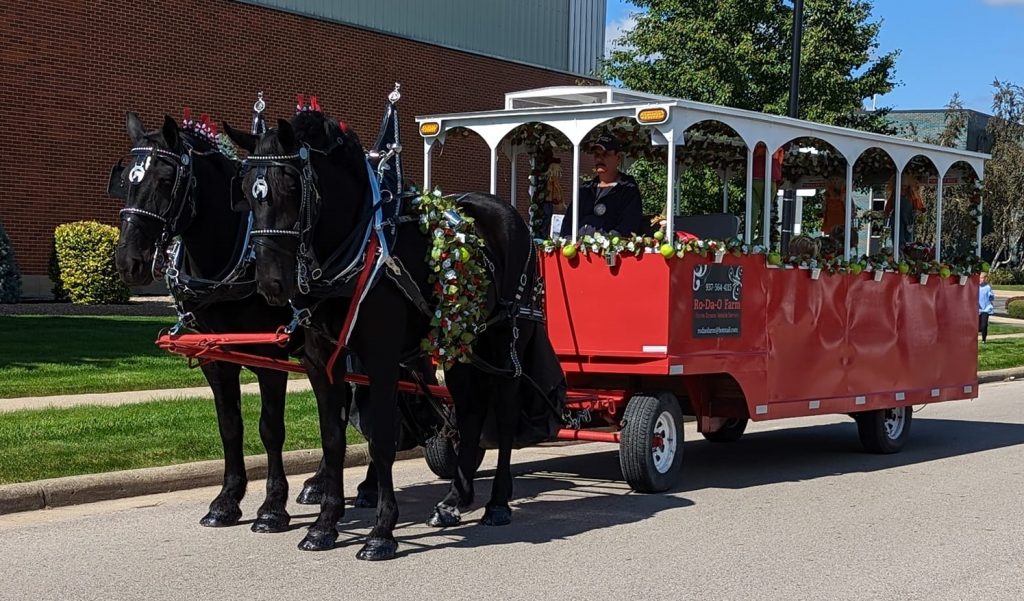 This year's carriage rides will be a horse drawn trolley from Rodao Farm of Arcanum, Ohio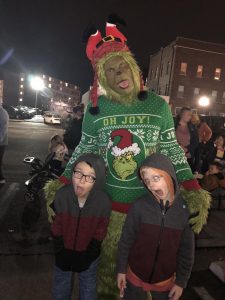 Watch for the Green Yeti of New Castle, roller skating elves, Frosty and more!