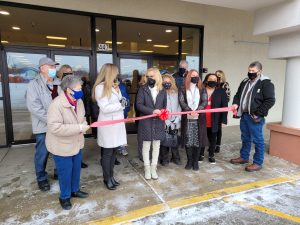 Ambassadors perform a wide variety of duties in the Chamber, but their main function is to help promote the Chamber, welcome new members to the Chamber, and make Chamber events successful and enjoyable for everyone. They are a special group of people who volunteer their time to help promote the Henry County business community and support Chamber functions.
CHARACTERISTICS OF A CHAMBER AMBASSADOR
Have a people-person personality
Can make members and guests feel comfortable and welcome
Projects a positive image for their company and/or the Chamber
Has confidence to make personal contact with any Chamber member
Encourages others to become Chamber members
Volunteers about 3-4 hours a month as an Ambassador
THE AMBASSADOR COMMITMENT
Participate in no less than 4 Ambassador meetings per year
Attend Chamber ribbon cuttings, grand openings, programs and other events
Assist with member retention
Greet new Chamber members and introduce them to other members at Chamber events
Knowledge of the Chamber, staff, committees and benefits
Acting as a contact for new and existing members
Encourage members to attend Chamber events, programs and to get more involved
BENEFITS FOR AMBASSADORS
Name and photo on the Ambassador page on the Chamber's website
Opportunity to connect one-on-one with new and existing Chamber members, meet local business and community leaders
Potential media coverage from attendance at Chamber events
Gain an insider's perspective of the local business community
Chance to help the community and show community pride
Recognition at the Chamber's annual banquet
BENEFITS FOR CHAMBER
Increased visibility within community
Better understanding of membership needs
More involvement of existing Chamber members
Ability to manage more effectively
Increased recruitment opportunities
Member retention
BENEFITS TO CHAMBER MEMBERSHIP
Increased access to points of contact who can provide assistance and answer questions
More frequent Chamber communication
Potential for increased referrals
Members will feel more connected to the Chamber
AMBASSADOR POINT SYSTEM
Ambassadors receive points based on participation. The highest point earner will receive an award at the Chamber's annual banquet.
COMMITTEE MEETINGS – 1 POINT

Points are awarded for attendance at Ambassador committee meetings. Meetings will be held 6 times a year.

RIBBON CUTTING – 1 POINT

Points awarded for attendance at ribbon cuttings and ground breaking ceremonies.

REFERRING CHAMBER MEMBERS – 3 POINTS

Points are awarded when an Ambassador's referred business joins the Chamber.

ATTEND EVENTS – 1 POINT

Points are awarded for attendance at Chamber events such as golf outing, Memorial Day ceremony and parade, cash bonanza and other events hosted by the Chamber.
Think you may be interested? Great! You may call (765-529-5210) or email (info@nchcchamber.com) with any questions.
Are you ready to get started? Super! Please complete the following online form.