Forever Grateful: Honoring Our Heroes
A Virtual Program Honoring Veterans in Celebration of Memorial Day 2020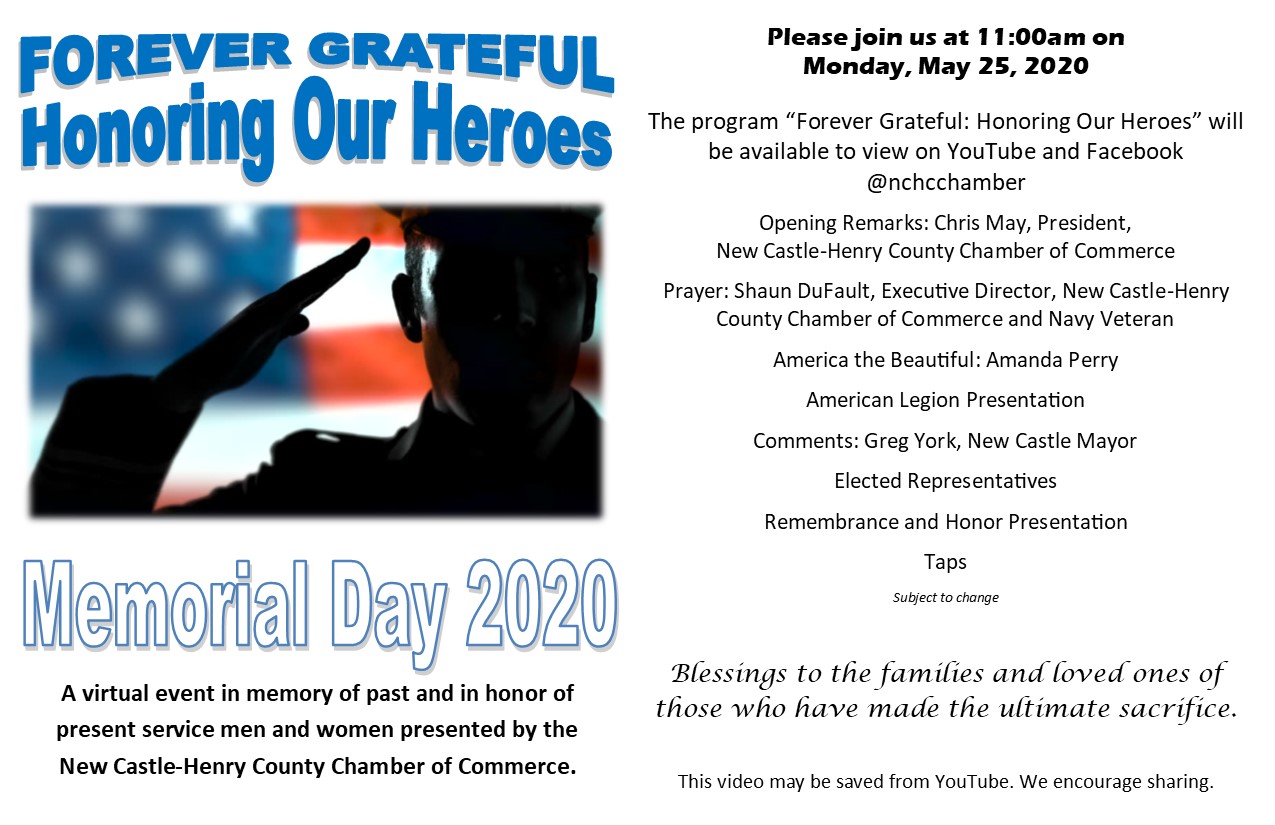 The New Castle-Henry County Chamber of Commerce and the Henry County community is Forever Grateful for our countries heroes!
In the past a veterans program has been held on the Henry County courthouse lawn. But, this year, due to the COVID-19, we are unable to have the same in-person program.
This year we will present a virtual program made possible by the submission of photos and memories from veterans, civilians and public figures.
YOU can pay honor and be part of this program! Please review the details below and use the online submission form. (submissions closed)
Call for photos, video clips and memories!
Are you a past or present service man or woman? Or family or friend of one?
A virtual Memorial Day program is being created honoring our service heroes and we need your help!
What may be submitted for the video:
Photos - Professional or casual photos. JPG or PNG files, 400 to 600 pixel
Video - Please limit to no more than :30 seconds
Submissions may be made by the form below. Submissions close on Thursday, May 21st.
Questions should be directed to Shonda Kane at assist@nchcchamber.com
The program "Forever Grateful: Honoring Our Heroes" will be available to view on May 25 at 11:00am on YouTube and Facebook. @nchcchamber
Please visit the Chamber Facebook page and follow the event to get notified on the latest updates. @nchcchamber
An event program will be posted on this page and the Chamber Facebook page closer to event date.
We sincerely appreciate your interest. Photo submission closed on Thursday, May 21st. If you have any questions please contact Shonda Kane at assist@nchcchamber.com.