Coronavirus economic reopening: 'Not So Fast'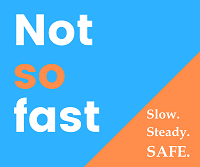 Henry County Indiana business owners and managers:
First, thank you. Thank you for doing your part to keep our community safe and healthy during this challenging time. And now, we ask that you continue this mission to fight the spread of COVID-19 as we prepare for the much-anticipated "reopening" of the economy.
Henry County business owners and managers are encouraged to review their policies, procedures and operations as we prepare for reopening. The exact timing and details of the reopening are still to be determined. We ask that you stay tuned and become prepared.
The theme for our community's reopening is "Not so fast." We need to move slowly to protect each member of our community and your continued vigillance and patience is appreciated.
One fact is clear: it will be a new normal; it will be different. The health of our employees customers and community will need to be high priority until COVID-19 treatments and vaccinations are widely available.
Business owners and managers should consider the following:
Incorporating social distancing with customers and employees
Infection control procedures and cleaning schedules
Personal protective equipment for employees
Occupancy considerations, including limitations, traffic flow, and office layout
Customer and employee interaction
Alternative work schedules
E-commerce channels (marketing and product sales)
Communication channels
Business owners are encouraged to study the Center for Disease Control's business guidance to determine likely changes in their own business.
Answering your questions and addressing your comments responsibly is important to us. Please send your questions to info@growinhenry.com. Your questions will help us develop local resources, webinars and frequently asked questions (FAQs) for the business community.
Not so Fast is a collaborative project including:
Henry County Health Department
New Castle Hnery County Economic Development Corp.
East Central Indiana Small Business Development Center
New Castle-Henry County Chamber of Commerce
Henry County Community Foundation
New Castle Main Street